ALL THINGS GUITAR
OVER THE YEARS I HAVE CREATED A FEW GUITAR GEAR RELATED SITES. RATHER THAN CONTINUE TO HOST THEM ON THEIR OWN AND PAY FOR EXPENSIVE HOSTING (WITH VERY LITTLE TRAFFIC), I HAVE ARCHIVED ALL OF THAT INFORMATION HERE. PLUS, LINKS TO OTHER GUITAR RELATED VENTURES OF MINE AND WEBSITES I DESIGNED FOR OTHER THINGS GUITAR RELATED. HOPE YOU FIND SOME OF IT USEFUL. LET ME KNOW IF YOU HAVE QUESTIONS.
THE ONES THAT GOT AWAY
THE ONES THAT GOT AWAY IS A VERY POPULAR GUITAR BLOG THAT MOSTLY CHRONICLES THE GUITARS AND OTHER GUITAR GEAR THAT JAIMIE HAS OWNED AND SOLD OR LOST OR GOT STOLEN OR HOWEVER THEY GOT AWAY. THE SITE HAS BEEN FEATURED IN PREMIER GUITAR, GUITAR PLAYER AND GUITAR EDGE MAGAZINES OVER THE LAST FEW YEARS. IT'S A GREAT PLACE TO READ ABOUT ALL KINDS OF DIFFERENT GUITARS, AMPS, PEDALS AND RELATED GEAR WITH FUNNY AND INTERESTING STORIES.
IRIS GUITAR COMPANY
IN 2018, I TEAMED UP WITH ADAM BUCHWALD FROM CIRCLE STRINGS TO HELP HIM LAUNCH HIS NEW, AFFORDABLE (BUT STILL PRETTY HIGH-END) GUITAR COMPANY CALLED IRIS GUITARS. I DESIGNED THE PEGHEAD LOGO AND BUILT THE NEW IRIS WEBSITE, AS WELL AS HELP ADAM WITH SOME OF THE MARKETING. THESE ARE AMAZING SOUNDING AND PLAYING GUITARS AND YOU SHOULD CHECK THEM OUT!
M.J. FRANKS GUITARS
AGAIN, THIS ONE IS NOT MY OWN SITE. I HAVE BEEN THE LONG TIME WEBMASTER AND MARKETING MANAGER FOR M.J. FRANKS GUITARS. MY GOOD FRIEND MIKE FRANKS HAND CRAFTS SOME OF THE FINEST GUITARS AND UKULELES ON THE PLANET AND I'M PROUD TO BE ASSOCIATED WITH SUCH A FINE BRAND AND FINE PERSON. IF YOU'RE LOOKING FOR A GUITAR THAT YOU WILL PLAY AND CHERISH FOR THE REST OF YOUR LIFE, LOOK NO FURTHER THAN M.J. FRANKS.
LOCOBOX EFFECTS PEDALS
I AM CURRENTLY ARCHIVING THE OLD SITE AND WILL MIGRATE IT HERE AS SOON AS I HAVE TIME. HERE IS SOME OF THE OLD INFORMATION FOR YOU UNTIL I GET THE TIME.

I WOULD ALSO ADD THAT, ALTHOUGH I NO LONGER COLLECT LOCO BOX PEDALS MYSELF, I LOOK AT REVERB EVERY ONCE IN AWHILE AND THE PRICES PEOPLE ARE ASKING FOR THE ORIGINAL LOCO BOX PEDALS ARE RIDICULOUS. THEY ARE NOT WORTH THE MANY HUNDREDS OF DOLLARS PEOPLE ARE PRICING THESE PEDALS AT. I HAVE SEEN THEM FOR WELL OVER $400. THE ONLY ONE OF THESE PEDALS THAT IS TRULY SOUGHT AFTER IS THE CHOKER PEDAL AND EVEN THOSE SHOULD NOT BE PRICED OVER $200. THE OTHERS SHOULD BE MORE LIKE $125. THE OTHER THING YOU CAN DO IS BUY THE EXACT SAME ELECTRA 500 SERIES PEDAL AND GET THE SAME EXACT THING FOR MUCH LESS. OKAY, RANT OVER.
The History of Locobox
Information about the origin of the Locobox effects pedals is few and far between. In the beginning in the late '70s, all the pedals were handmade in a small factory in the city of Urawa, in Saitama, Japan. There were virtually only three men (the president, the designer and his boss) as well as six or seven women part-time jobbers. They did all the R&D, construction, testing, and even the silkscreening themselves. They started out selling their pedals to Arai Boueki (Aria), and these had the brand name "Locobox." The main brand name was Locobox, but they did make a few small runs of other brands that are exactly the same pedal. These included the Electra pedals of that era (the 500 series), and a few very small runs that were branded with other names like Volz and Nadines. So, if you are looking for a coveted Choker pedal, you can also keep an eye out for an Electra 502C Compressor and you'll have the same thing for less.
When the pedals switched to a more generic ABS resin casing in the early '80s to save money, they also changed the circuitry. So, the '80s compressors are not the same as the original Chokers...for instance. They made the same exact pedals with the Locobox brand and other brands such as Cutec, Pearl, Gig, Powervoice, Studio Series and even some Yamaha pedals. They simply changed out the brand name sticker on the pedal. Later on they were acquired by Aria (from what I can tell) and made pedals, rack gear and guitar and bass amps with both the Locobox and Aria brand names.
EVENTUALLY I WILL REBUILD SOME OF THE ORIGINAL LOCOBOX.COM SECTIONS. FOR NOW I'LL LEAVE YOU WITH THESE PHOTO GALLERIES OF SOME OF THE PEDAL PHOTOS THAT MIGHT BE HELPFUL IN SOME WAY.
LOCOBOX '70S (MAYBE EVEN EARLY '80S) PEDALS (THE ORIGINALS)
LOCOBOX LATER '80S PEDALS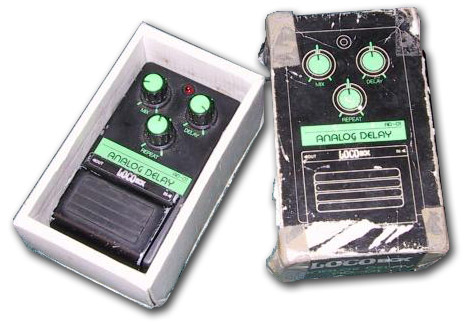 OTHER ELECTRA 500 SERIES AND RARE BRANDS EXACTLY THE SAME AS THE EARLY LOCOBOX PEALS
LOCOBOX RACK GEAR, MIXER AND PEDAL BOARD AND ELECTRA BOX EFFECTS
LOCOBOX GUITAR AND BASS AMPS
SHO-BUD ACOUSTIC GUITARS
MANY YEARS AGO I CAME ACROSS A SHO-BUD ACOUSTIC GUITAR. REALLY WELL MADE IN THE 70'S IN THE GREAT JAPANESE GUITAR FACTORIES. SOUNDED EXCELLENT. BUT...WHAT THE HECK IS THIS? I KNEW SHO-BUD WAS A PEDAL STEEL GUITAR MAKER, BUT I HAD NEVER SEEN AN ACOUSTIC WITH THEIR BRAND NAME ON IT. SO I WENT TO THE INTERNET AND FOUND VERY LITTLE INFORMATION. I FIGURED MAYBE IF I MADE A WEBSITE, PEOPLE WOULD EVENTUALLY SEND ME INFORMATION ABOUT THESEGUITARS AND I COULD SHARE IT WITH ANYONE LOOKING TO FIND OUT ABOUT THEIR GUITAR. THERE REALLY ISN'T VERY MUCH INFORMATION AT ALL, BUT SEVERAL PEOPLE OVER THE YEARS HAVE BEEN VERY GENEROUS WITH WHAT THEY KNOW AND ALLOWED ME TO SHARE IT ON MY SITE.

WHAT YOU SEE HERE ARE SCREEN GRABS OF THE ORIGINAL WEBSITE I BUILT MANY YEARS AGO, INCLUDING INFORMATION ABOUT THE CLUB, DIAMOND, SPADE, HEART AND GRAND SLAM MODELS AS WELL AS THE RESONATORS. IT'S NOT MUCH, BUT HOPEFULLY IT'S SOMETHING THAT WILL ASSIST YOU IN FINDING OUT MORE ABOUT THESE COOL GUITARS THAT SOUND FANTASTIC. IF YOU HAVE PHOTOS OR OTHER INFORMATION THAT YOU'D LIKE TO SHARE, SEND THEM MY WAY. I'LL ADD A PHOTO GALLERY TO THE END OF THIS SECTION SOON.
OVER THE YEARS I HAVE RECEIVED SEVERAL OTHER INTERESTING SHO-BUD GUITAR AND BANJO PHOTOS. I WILL PUT TOGETHER A PHOTO GALLERY AS SOON AS I DIG OUT THE ADDITIONAL PHOTOS. IF YOU HAVE ANY QUESTIONS, FEEL FREE TO EMAIL ME AND I'LL DO MY BEST TO ANSWER.